To activate Paydirect you need to link your TNG card with TNG eWallet. Once you link TNG card, the Paydirect features will be automatically activated and your toll transaction will be deduct from TNG eWallet if sufficient balance when you're passing any Paydirect supported toll plaza.
Please follow below steps to activate your Paydirect:
Step 1: Launch your Touch 'n Go eWallet app
Step 2: Tap on Toll icon and then tap on PayDirect icon
Step 3: Click Add TNG Card Now to add a Touch 'n Go card
(If you already add Touch 'n Go Card, you will see View TNG Card)
Step 4: Enter your Touch 'n Go Card 10 digit serial number
Please refer to article How do I add my Touch 'n Go card into my eWallet? for more info
Step 5: Once added, use the physical Touch 'n Go card as you normally do at the toll booths of participating highways- tap the reader or via SmartTAG
Step 6: The toll fares will be deducted directly from your eWallet.
Important Notes : Please ensure you have sufficient balance in Touch 'n Go eWallet for the toll transaction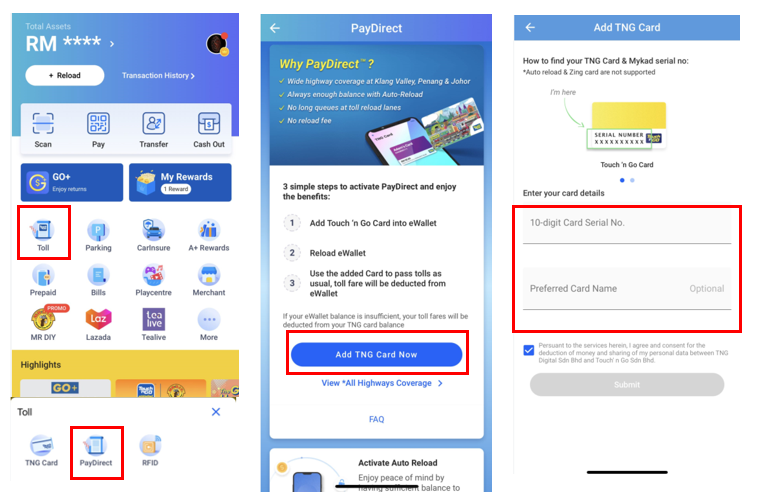 Below are the articles that may be useful for you :
Can I use PayDirect at any toll plazas?
Does that mean I can use PayDirect in any highways in Klang Valley?