Your wallet reload may be unsuccessful due to the following reason :-
1. Error message 'Service Not Available'
This could be due to an issue with the network connectivity or a system downtime
Please try to unbind and rebind your bank card
2. Your remaining balance exceeded eWallet size
Consider to use up your balance or upgrade your eWallet account by doing account verification.
If you have not verify your account, please do so to upgrade your eWallet size. Refer to article How do I verify my account? for more info
If you have verified your account, you may upgrade eWallet size exceeding RM5000. Please refer to article How do I upgrade from one tier to another? for more info
3. You have entered the wrong card details (Bank card number / expiry date /CVC)
Please try again with correct card details
4. You've entered an incorrect OTP
Please resend OTP and try again
5. Your bank card has expired
Please proceed with another bank card or valid bank card
6. The bank card is not supported
Only credit/debit card issued by Malaysia and Singapore local bank
Only Visa and MasterCard
AMEX is not accepted
7. Payment authorization request was declined by your issuing bank
Please contact your card issuing bank for clarification
Please try to add different bank card with the following requirement:

Your card is authorized for eCommerce transactions
Your card is authorized for 3D-secure transactions (3DS) - OTP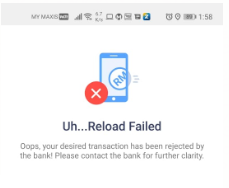 8. Same bank card used for multiple eWallet account
Credit card payment on Touch 'n Go eWallet is subject to transaction processing rules imposed by card schemes (e.g. MasterCard, Visa, etc.) Credit cards with activities suspected to be in violation of these transaction processing rules will not be allowed to make a payment on Touch 'n Go eWallet. For more information, please refer to User's Terms and Conditions
Please contact us here for further assistance. Refer submission guide at https://youtu.be/eAStXLbiqvY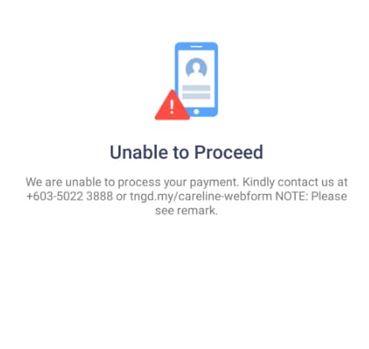 9. Device Issue
Kindly do self troubleshoot to check line connectivity as per below :
a) Launch internet browser, type www.google.com and tap Go.
b) If the page fails to load, you may have internet connectivity issues

If no internet connection issue,

i) Ensure device is not jaibroken or rooted.
Please refer to article Why is the Touch 'n Go eWallet app not supported on jailbroken / rooted devices? for more info.
ii) Uninstall and re-install App
iii) Update app to the latest version
iv) Clear Cache/Data/Storage if possible for your device


If all the above does not resolve your issue, please contact us by submit a request here. Please provide relevant screenshot to support our investigation.
Important Notes:
In some occasion during high traffic, please allow up to 24 hours for reload amount to be reflected.
Below are related articles that might be useful for you :
How can I reload my Touch 'n Go eWallet account?
What is the minimum and maximum reload amount for my Touch 'n Go eWallet account?
Why is my auto-reload status unsuccessful?